We enable and configure it as needed on Premium or Woo sites based on requirements of the customer
Event Tickets provides a simple way for visitors to RSVP and buy tickets to your events. As a standalone plugin, it enables you to add RSVP and ticket functionality to posts or pages. When paired with The Events Calendar, you can add that same functionality directly to your event listings, including an RSVP/Buy Now button on list-style pages. This call to action makes it quick and easy for attendees to RSVP and buy tickets to your event.
Event managers are able to access RSVP and ticket order information from the admin, allowing them to check in registered attendees when your event begins. Events Tickets allows you to own the entire event management process within your WordPress site.
Use The Events Tickets plugin when a customer would like a calendar displayed on their site with a directoryof all events added as well as the ability to allow registration for their events on the post.
This basic tickets plugin only allows RSVP registration, not ticket sales. This is good for registering guests for free events or for events where its important to build an email list of attendees. It is also good for events or seminars where any ticketing fee is handled upon arrival but the guest spot needs to be reserved for free.
Additional Setup Requirements: n/a
---
1. Download and install/activate the Events Calendar plugin – make sure the basic plugin is installed/activated first
2. Download and install/activate the Event Tickets plugin
3. Go to dashboard > Events to add an event
4. On the edit screen of the event post, scroll down and you will find the Tickets meta box
5. Without the Plus version you'll see an option for "+ New RSVP"
---
Event Tickets Overview
---
Event Tickets: Using RSVPs
Sometimes you may not want to sell tickets and charge a price for an event, but would still like to have a list of people who will be attending. The RSVP ticket type in Event Tickets provides this functionality.
Instead of buying a ticket, entering credit card or PayPal information, or going through any other part of the checkout process, with the RSVP "ticket" option users just:
Select a quantity for how many spots to RSVP.
Enter their name and email address to confirm that they will be attending the event.
Immediately receive a simple tickets confirming their reservation at the email address they entered.
This article will show you how to enable and use the RSVP features of Event Tickets and Event Tickets Plus.
Note: there is no eCommerce or payment-collection functionality with RSVPs. Click here to read more
---
Settings overview: Event Tickets and Event Tickets Plus
Before using Event Tickets, you'll want to make sure that you have the plugin settings configured to meet your needs. You can find your tickets settings under Events –> Settings –> Tickets.
If you're using Event Tickets with The Events Calendar, you'll want to make sure to review our guide to The Events Calendar's settings. If you're not using TEC, be sure to read the section below on stand alone Tickets settings.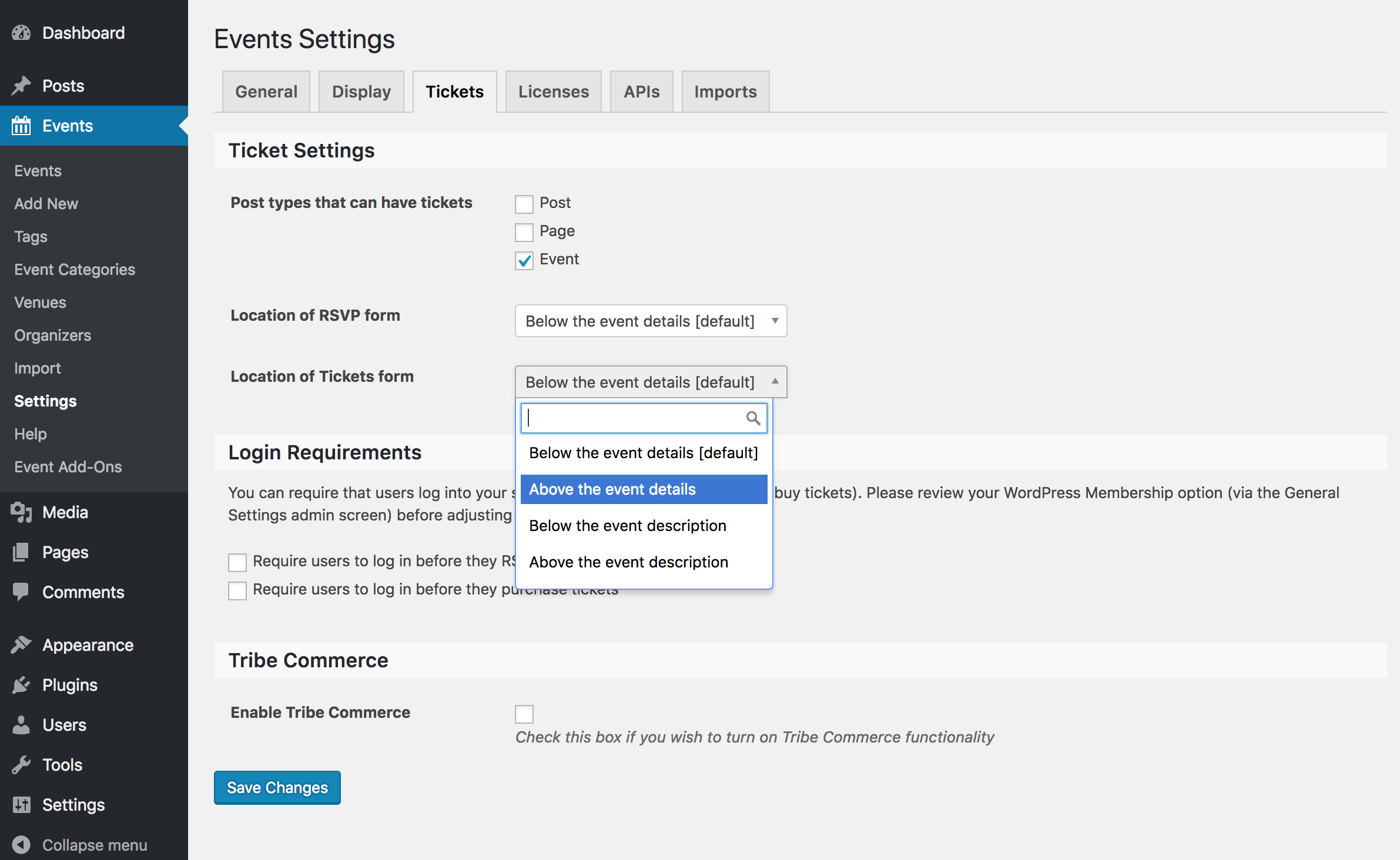 ---
Event Tickets Settings
Under the ticket settings heading, you can choose which parts of your site can be used with tickets. Tickets can be used on any Custom Post Type. You'll see Post and Page as two of your options. Depending on what other plugins you have active, you may also see Event and/or Product. Check which options you want to use with Tickets and save your settings. You'll now see a Tickets meta box available on those post types.
As of Event Tickets version 4.4 (December 2016), there is a setting for you to choose the location on the single events view where your RSVP tickets or tickets to sell are displayed.
Your other ticket-related settings (such as capacity and attendee information) are configured individually for each page, post, or event you make with tickets.
---
Additional Settings
If you are using Event Tickets without The Events Calendar, there are a few other settings that you'll want to configure on the General and Display tabs. Users of The Events Calendar also have these tabs (along with a large number of calendar-specific settings) but this section only reviews those relevant to Event Tickets/Event Tickets Plus without TEC. Click here to read more
---
Making tickets
Creating tickets with Event Tickets and Event Tickets Plus is easy and fast. This page walks you through the process to make tickets on your site's posts, page, or events. The article is divided up into two main parts:
Setting up basic tickets – creating basic tickets with a specific or unlimited capacity
Shared Capacity – creating two or more tickets which pull from a shared capacity for the event