We download, install and activate the plugin. We can then use shortcodes to place widgets for the form on a page.

Five Star Restaurant Reservations is a free plugin used to accept restaurant reservations and table bookings online. Quickly confirm or reject bookings, send out custom email notifications, restrict booking times and more. The plugin allows free table reservations for site visitors – payments are not possible.
Use the Restaurant Reservations plugin to book tables free of charge - no payments on the site.
Use this plugin if the customer is looking for a simple, quick way to allow visitors to book tables at their restaurant or club. It doesn't have to be specifically for restaurants only, the plugin can be used for any business that requires the reservation of a spot for a certain amount of people and no payments are involved in making that reservation.
If the customer intends to charge the visitor making the reservation, that can be done using another gateway/process after the customer has arrived at the area they booked. The plugin will not conduct any transactions, it will just make note of the bookings, organize them and let you export them.
Additional Setup Requirements: n/a
---
All you need to get started taking bookings is add the booking form to your website. There are four ways you can do this.
Add the Booking Form block to any page or post.
Automatically add the booking form to any page on your website. Go to the Bookings > Settings page in your admin dashboard. Select one of your pages in the dropdown list for Booking Page. The booking form will automatically be added to that page.
Add the Booking Form widget to any sidebar. Go to Appearance > Widgets and find the Booking Form widget. Add it to any sidebar to display your booking form there.
Use the [booking-form] shortcode to add your booking form to any page or post on your website. Simply copy and paste [booking-form] into the content of any page or post.
Once the form is appearing on your site, you're ready to go!
You can move on to start managing your bookings or learn more about configuring your booking schedule, customizing email notifications, and more.
You can configure how Restaurant Reservations handles your bookings by going to the Bookings > Settings page in your WordPress admin area.
General Settings
The general settings page allows you to configure your booking form. You can automatically attach the form to any page, tailor the success message, and customize the format of the date, time and language for the date and time pickers. (click here to read more)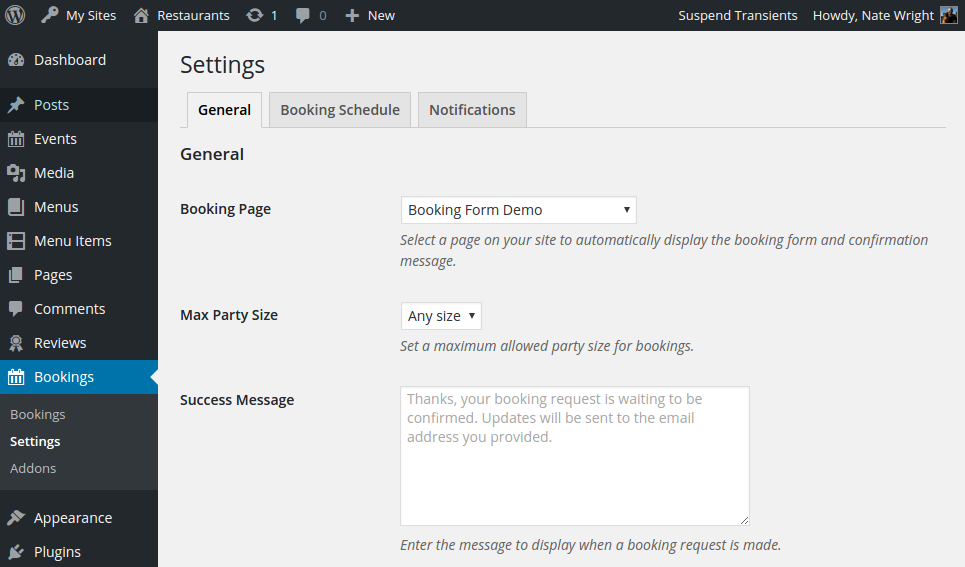 ---
Set the Booking Schedule
You probably only want to accept bookings when you're open. Maybe you only want people to book for certain times.
On the Bookings > Settings > Schedule page you can define scheduling rules which limit the times people are allowed to book in your restaurant. (click here to read more)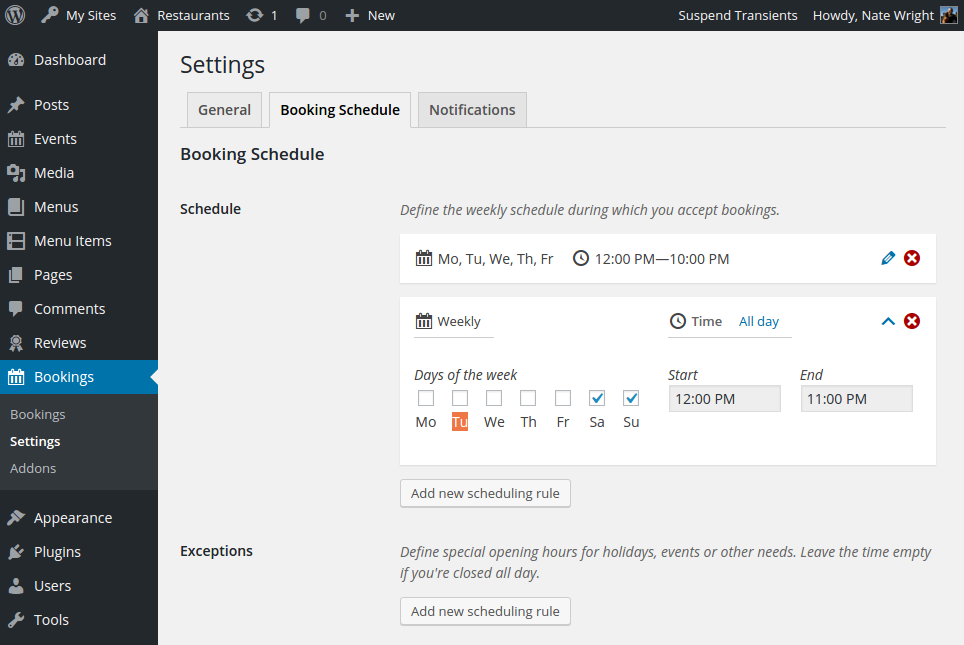 ---
Email Notifications
Restaurant Reservations sends email notifications when a booking is made, rejected or confirmed. On the Bookings > Settings > Notifications page you can customize these emails to fit your brand. (click here to read more)