We enable and configure it as needed on WooCommerce sites based on requirements of the customer

Paid Bookings extension to WooCommerce where the customer chooses the date/time and purchases their booking slot as a product.
Create fixed time slots when bookings are available
Customer-defined number of people
Email notifications to be informed of confirmed or requested bookings
Create bookings manually via the wordpress admin
Site visitors must pay for bookings. They can create booking slots, optionally create fixed time slots when bookings are available, or let customers decide. The plugin provides custom-tailored booking costs, you can define custom costs per booking, resource, block, people or duration of the reservation made and you can control booking availability.
Use WooCommerce Bookings if the customer wishes to sell a slot as a product - perfect for those wanting to offer appointments, services or very simple rentals.
There is a lot more control and manageability with Woo Bookings over the Bookly Lite plugin. It stands out by allowing email notifications and its seamless integration with Google Calendar.
Woo Bookings can integrate with Woo Product Add-Ons to allow extra add-ons charges or fields for bookings. It can also integrate with the Woo Accommodation Bookings add-on which adds time ranges to the bookings to specify overnight stay and check-in/check-out times.
Additional Setup Requirements: n/a
---
1. Go to dashboard > PWS Core and install/activate the plugin
2. A bookings tab will appear in the dashboard upon install
3. To accept bookings, you need to create a bookable product. Go to Products > Add New – A familiar WooCommerce interface for product creation appears.
4. Enter a title and description for your product.
5. Select Bookable Product in the Product Data dropdown menu.
6. Tick the Virtual checkbox, if your product does not require shipping. This omits the Shipping Costs tab from your product.
Fields will change to reflect bookable products.
Creating a Bookable Product – General settings
The first settings are booking duration, calendar display and confirmation preferences.
(click here to read more)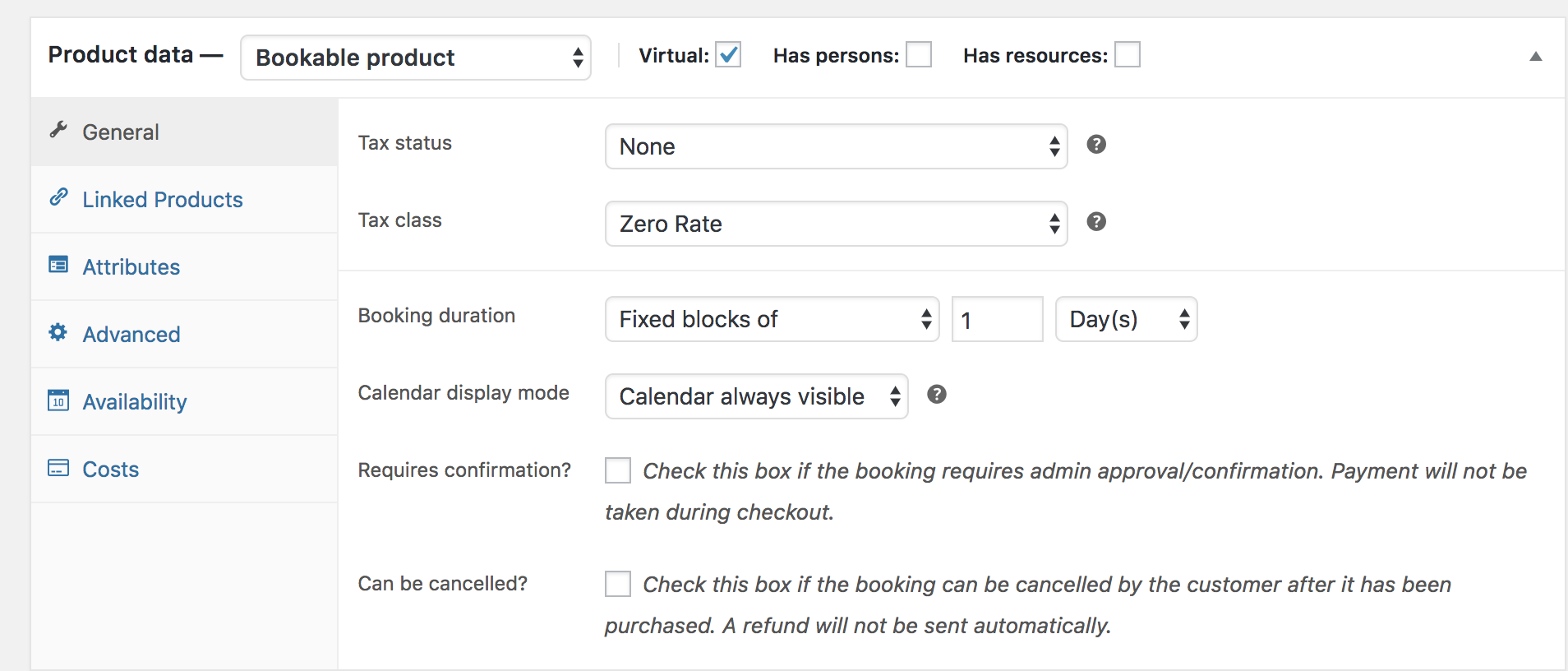 ---
Booking duration
This determines how long a booking lasts. The duration can be admin defined (fixed block) or customer defined (they need to input on the front-end). Duration units can be Hours, Minutes, Days or Months.
Fixed blocks have a set duration that you define. The customer can only choose one block which will last the defined amount of time. For example hair dresser appointment lasts one hour and you can only book one at a time.
Customer-defined blocks have a set duration, but the customer can choose how many blocks they want. For example, the co-working space is rented out in hourly intervals, and the customer can define how many 1-hour blocks they would like to rent.
If you set your Booking duration to be customer defined:
A minimum and maximum allowed value can be included in the General tab. This allows for a more flexible starting schedule.
It is possible to use 30-minute blocks and set the minimum to 2 blocks. Your customers now need to book at least one hour, and can add increments of 30 minutes.
A customer-defined duration with blocks in minutes/hours will display a dropdown.
---
To view bookings that have been created, go to Bookings in admin. At the top of this screen you can view the standard filter and search area. A list of bookings appears in order of date created:

You can:
Filter by status using the status links at the top
Use bulk actions

Move to trash
Confirm bookings
Unconfirm bookings
Cancel bookings
Mark bookings as paid
Mark bookings as unpaid

Filter by date
Filter by the product/resource that has been booked
Search
At the far right of each booking are actions you can perform on the row:

The two main actions are:
Confirm booking – allowing you to confirm a pending booking and email the user
View the booking details
---
Defining global availability rules
Global availability rules apply to all bookable products in your store. Configuring these rules is useful if you, for example:
Have consistent/expected hours of availability (e.g., Monday – Friday, 9:00 a.m. – 5:00 p.m.)
Need to block out a specific date range for all products (e.g., Unavailable for Christmas break)
Only have availability during specific seasons (e.g., Closed from October – May)
To define a global rule, go to: Bookings > Global Availability.
Click the add range button – This adds a row to the table.
---
Using Resources in Bookings
Resources can be added to multiple bookable products with a global level of availability or individual availability.
Examples of usage include:
An assistant who can be booked to organize a wedding or a 50th birthday party, but not both at the same time.
A room that can be rented for a kid's birthday party or for a company event, but not at the same time.
To add a global resource, or a resource that can be used site wide:
Go to Bookings > Resources. A list of current resources and any products they are assigned to is displayed.
Select Add Resource at the top. The Add New Resource screen appears.
Enter a name/reference for the resource.  Make sure you name your resources appropriately and do not use the same name twice to make managing your site easier as your site grows.
Input the Available Quantity.
Add Range if the resource has any restrictions on availability. Similar to Availability on a Bookable product. More details at: Custom Availability Range.
Publish to make the resource available.
To add a resource to a bookable product: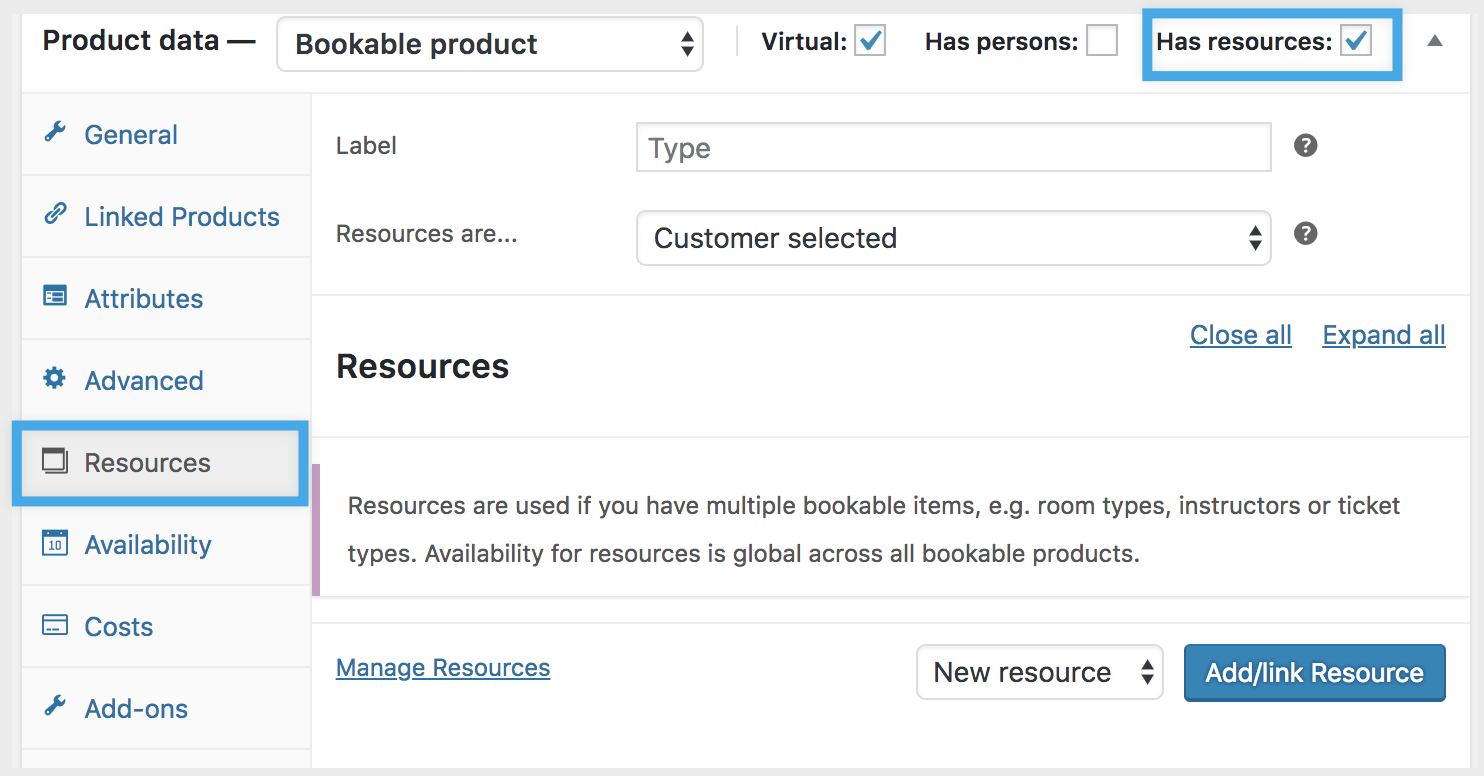 Go to WooCommerce > Products.
Select the bookable product you would like to Edit.
Scroll down to Product Data and tick the Has Resources box.
Go to the Resources tab.
Enter a Label to be shown to customers if Resources are Customer Selected. If automatically assigned, leave blank.
Select a Resource from the dropdown in the lower right.

New resource: Select Add/link Resource, then you are prompted for the resource name. Once entered, a new global resource is created in the system.
Existing resource: Select Add/link Resource, then you are prompted to enter a Base/Block cost. The Base cost is applied when the resource is chosen; the Block cost is multiplied by the number of blocks booked.

Update the Bookable Product to save resources